How To Play Pokémon GO on PC in 2023 (Full Guide)
Almost every kid who grew up in the 90's or 00's had Pokémon as a part of their childhood. Ever since Pokémon GO was released, people have been loving the more hands-on experience. Pokémon GO has brought the Pokémon world to our very own.
The gameplay makes you go around the neighborhood along with your phone to find and catch various Pokémon through augmented reality technology.
Don't have a phone, prefer to remain in the comfort of your own home, or prefer using the computer? No need to feel left out! This article is gonna help solve that problem.
Here are some ways on how you could play Pokémon GO using your PC.
BlueStacks
If this isn't your first time playing mobile games on your computer, then you are probably familiar with BlueStacks. BlueStacks is known to be the world's leading software in providing Android games for PC users.
The software allows you to customize your controls, play multiple games simultaneously, record and replay action, and many other features.
Here are the steps on how you could play Pokémon GO using BlueStacks:
First, head to the BlueStacks website. Download the appropriate version of the app depending on your operating system, either Windows or Mac.
Second, run the installer and follow the necessary steps such as the folder location and other things.
Next, sign-in using your Google account to access the Play Store. Since the app is based on the Android operating system, you need a Google account.
After that, look for the app by typing in 'Pokémon GO' on the search bar located at the top right corner of the app and press Enter.
Finally, install Pokémon GO.
After installing, simply click on the application icon and start catching them all!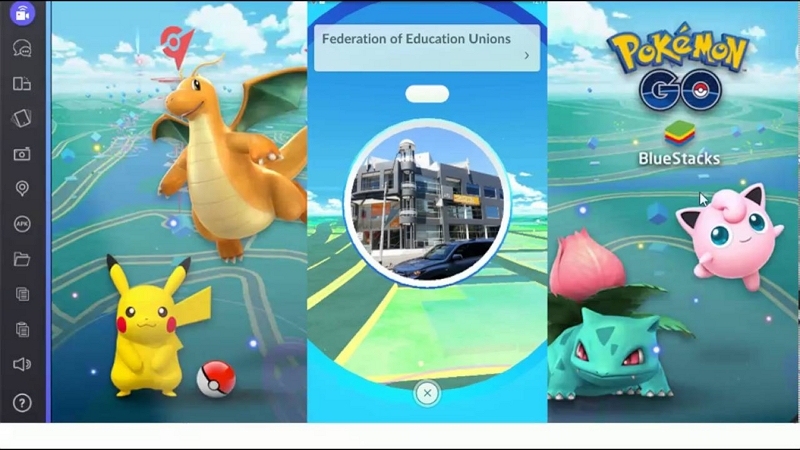 Always remember that the performance of the game will depend on your computer's specs, so be sure that your computer has what it takes to run the game smoothly.
In some cases, the Fake GPS app—the app that allows you to move around in the game—might not be installed along with BlueStacks. In instances like this, you can search for the app in the Play Store in BlueStacks and simply install it as well.
Nox App Player
Nox App Player is an alternative Android emulator that allows you to play Pokémon on your computer. What makes it different from BlueStacks is that Pokémon GO is already preinstalled along with the software.
Other than that, you wouldn't need external software to allow you to move around the map. You can use the WASD keys to navigate different locations and interact with Pokémon and objects using your mouse.
This makes the app an easier and more convenient option while all the more being a free software. All you have to do is to go to Nox App Player's website and download the program.
Read this tutorial to get more details about playing Pokémon using Nox.
Koplayer
Some Android emulators might be too much for your humble computer. They could cause in-game lag and software crashes from time to time. If you think your computer needs a lighter alternative, you could go for Koplayer.
Koplayer is known for its lightweight and lag-free experience. In fact, users dub it as one of the lightest Android emulators ever.
It has a simple and easy-to-use interface while having a built-in recording feature to relive your best moments in the game.
Just like the other emulators, it allows you to connect with your Play Store account and lets you interact with your friends and other people.
To install the software, all you need to do is access Koplayer's website and download the installer.
After launching the installer and accepting the End User License Agreement, have a cup of tea while waiting for the installation to finish and you're good to go.
You can set your location once you're in the app and start playing the game. Find more details of playing Pokémon GO using Koplayer from this tutorial.
Using a Screen Mirror App
Another alternative is using a screen mirroring application. This allows you to view your mobile phone's screen through your PC or laptop. Basically, you are using your phone through your computer.
There are various screen mirroring applications you can use and it boils down to your preference on which app you want to go for.
However, to move around in the game you must use a location-spoofing app such as Fake GPS. You must be careful though as Niantic is pretty sensitive about cheating and will pretty much ban your account if it detects suspicious location changes.
Using an iOS GPS Spoofing Tool
If you prefer to use your iPhone but stay within the walls of your humble abode, you could also use the MockGo iOS GPS Spoofer tool. The app is something you can use to manipulate your in-game location while still using your iPhone.
This way, you don't need to install emulators, you would only need to install the MockGo tool. Here are the steps on how to use the application to fake GPS of iPhone using the computer:
Step 1. First up, download and install MockGo onto your computer.
Step 2. After installing, connect your iPhone to your computer after launching the application and then click Start on the main screen.
Step 3. Next, teleport to the location by activating Teleport mode. The clickable icon should be on the upper-right corner of the screen.
Step 4. Enter the address of where you want to go on the search bar and click Go.
Step 5. Finally, you will be directed to the desired location. From there, click on Move Here to teleport you there in-game.
The GPS of your iPhone will be teleported to the new place immediately!
It is best to avoid teleporting too much, especially in small time intervals. Niantic will detect any suspicious activity and this may result in your account getting banned.
Conclusion
In times like this, going outside to catch Pokémon, hatch Eggs, challenge Gyms and battle other Trainers might not be ideal for you and your health.
With this, playing Pokémon GO using your PC at home might be better. This can be done in a lot of different ways such as using emulators or screen mirroring applications.
If you have any queries on how to play Pokémon GO on PC, shoot us a comment down below. Remember the wise words of the forever young Ash Ketchum—»Gotta catch 'em all!». Good luck and have fun, Trainers!
How To Play Pokémon Go On PC?
Pokémon Go is Niantic's gift to all Pokémon fans who always aspired to be Pokémon trainers themselves. Well, their prayers have finally been answered. This AR-based fiction fantasy game brings to life your favorite Pokémons. You can find them taking a stroll in your front yard or taking a dip in your pool, waiting for you to catch them. The objective of the game is quite simple, you need to wander outside in a quest to catch as many Pokémons as you can, train them, evolve them, and then eventually participate in Pokémon battles at designated Pokémon gyms.
Now, Pokémon Go requires you to go out for long walks in order to explore your city and get the opportunity to catch unique and powerful Pokémons as a reward. Needless to say, Pokémon Go is designed to be played on your mobile phones which you need to carry on your outdoor expeditions. However, not everyone is a big fan of running around on the streets for playing a mobile game. People have always wanted to find alternate ways that allow them to play the game without leaving the comfort of their homes.
One such way is to play Pokémon Go on PC and that is exactly what we are going to discuss in this article. We are going to provide a detailed step-wise guide to make this thing work. So, without any further, let us get started.
Table of Contents
How To Play Pokémon Go On PC?
What is the need to play Pokémon Go on PC?
Although playing the game on PC destroys the ulterior motive (to get people to exercise and be more active), there are several reasons why it is worth exploring.
1. Road Safety
The first cause of concern is safety on the roads. Pokémon Go is mostly played by kids who certainly lack awareness. They might get so engrossed in the game that they fail to abide by the road safety rules and meet with an accident. This problem is especially concerning in big metropolitan cities with their array of fast-moving vehicles.
2. Unsafe at Night
A lot of people play the game at night hoping to catch a dark or ghost type Pokémon. Thrilling as it seems, it is definitely not safe. Poorly lit streets coupled with eyes glued to the screen is a formula for danger. In addition to that, unwary kids might stroll into some dark and desolate alleys and run into miscreants.
3. Accidents while driving
Although Pokémon Go is meant to be played on foot, some people employ hacks to play the game while driving or riding a bike. This is extremely dangerous as you might get distracted and run into a terrible accident. You are not only risking your life but also of other drivers and pedestrians.
4. Running out of Charge
It is difficult to keep a track of battery percentage while playing a game as addictive as Pokémon Go. You might continue walking in some random direction in pursuit of a Charizard and end up getting lost in an unknown part of the town. To make matters worse, your phone's battery is dead and you can't navigate back home or call for help.
5. The only alternative for people with disabilities
Unless you are fit and in condition to go out for long walks, you can't play Pokémon Go. This seems to be quite unfair for people who can't walk properly due to disabilities or old-age. Everyone should be able to enjoy a game and playing Pokémon Go on PC allows them to do so.
What are the pre-requisites for Playing Pokémon Go on PC?
In order to play Pokémon Go on PC, you will need to install a combination of various software, apps, and tools on your computer. Since there is no direct way to play the game on your computer, you need to use an emulator to make the game think that you are using a mobile phone. Also, you need a GPS spoofing app to emulate the walking motion. Given below is a list of software that you need to install.
1. BlueStacks
You must already be familiar with this one. It is the best Android emulator for PC. This will provide a virtual engine to run the mobile game on your PC.
2. Fake GPS
Pokémon Go detects your movement by tracking the GPS location of your phone. Since you won't be doing any movement while playing Pokémon Go on PC, you will need a GPS spoofing app like Fake GPS that will allow you to go from one place to another without actually moving.
3. Lucky Patcher
Lucky Patcher is a useful Android app that allows you to modify apps and games. With the new anti-cheating measures in place, Pokémon Go will be able to detect if GPS spoofing or mock locations is enabled, the only workaround is to convert the Fake GPS app into a system app. Lucky Patcher will help you to do exactly that.
4. KingRoot
Now, in order to use Lucky Patcher, you need to have a rooted Android device. This is where KingRoot comes into the picture.
5. Pokémon Go Game
The final item on the list of course is the Pokémon Go game itself. You will find this game either directly by visiting the Play Store from BlueStacks or install it using an APK file.
What are the risks involved in Playing Pokémon Go on PC?
As mentioned earlier, Pokémon Go is meant to be played on a phone and by covering ground in real life. If you attempt to play Pokémon Go on your PC, then you are violating the rules and regulations set by Niantic. It will be treated as cheating or hacking.
Niantic is pretty strict about its anti-cheating policies. If it discovers that you are using an emulator or using GPS spoofing then it might ban your account. It starts off with a warning and soft ban and then ultimately leads to a permanent ban. You will no longer be able to access your account and all your data will be gone. Therefore, you should always use a secondary account while trying to play Pokémon Go on PC so that your main account is safe.
You need to be very careful while spoofing your location. Remember that Niantic tracks your movements by constantly collecting your GPS location, so if you move from one place to another too fast, Niantic would immediately understand that something is fishy. Therefore, give enough cooling time before changing your location. Only travel small distances at a time, something that you can easily cover on foot. If you are smart enough and carefully follow all the instructions, you will be able to trick Niantic and play Pokémon Go on PC.
How to Play Pokémon Go on PC?
Now that we have discussed in detail the need, the requirements, and the risks involved, let's get started with the actual process of setting up Pokémon Go on your PC. Given below is a step-wise guide that you need to follow in order to play Pokémon Go on PC.
Step 1: Install BlueStacks
The first step would be to install the Android emulator on your PC. BlueStacks will allow you to get the experience of a smartphone on your device. It is a virtual engine that allows you to install and use Android apps on the computer.
You can find the setup file on the internet and it is absolutely free to download. Once the installation is complete sign in to your Google account. Make sure that this is the same id that you will be using for Pokémon GO.
Step 2: Time to Root your device
As mentioned earlier, you need a rooted device to use Lucky Patcher. You need to install the KingRoot app on BlueStacks. Now, you won't find this app in the Play Store and so will have to install the APK file separately on your computer.
After that, click on the APK symbol on the navigation pane on the left side of the screen. BlueStacks will now ask you to select the APK file from the computer. Browse and select the respective APK file for KingRoot and click on the Open button. KingRoot App will now get installed on BlueStacks.
Now, launch the KingRoot app and tap on the Root button. That's it, now wait for a couple of minutes and you will have a rooted BlueStacks version with superuser access. Reboot BlueStacks after this and then proceed to the next step.
Step 3: Install Fake GPS app
The next app that you need is the Fake GPS. This is the most important app, as it will allow you to play Pokémon on PC without actually moving or leaving the house. Fake GPS app replaces your actual GPS location with that of a mock location. If the location is changed slowly and gradually, then it can be used to emulate walking. This way you will be able to travel from one place to another and catch different kinds of Pokémons.
Although this app is available on the Play Store, do not install it directly. We need to install Fake GPS as a system app, so for the time being, just download an APK file for Fake GPS and keep it aside.
Step 4: Convert Fake GPS into a System App
Earlier on, you could simply enable mock locations on your device and use the Fake GPS app to spoof your location. However, Niantic improved their security system and now it can detect if mock locations are enabled, in which case it does not allow you to play the game.
This is why you need to convert Fake GPS into a system app, as Pokémon Go will not be able to detect mock locations if it comes from a system app. Lucky Patcher will help you with this. Similar to KingRoot, this app is not available on the Play Store. You need to download and install the APK file on BlueStacks.
After the installation is complete, launch Lucky Patcher and grant whatever access permission it seeks. Now tap on the Rebuild and install option. After that navigate to the folder where you have saved the APK file for Fake GPS and open it. Now click on the Install as a System app option and confirm by clicking the Yes button. Lucky Patcher will now install Fake GPS as a system app on BlueStacks.
You will be prompted to restart BlueStacks after this ignore that and reboot it manually by clicking on the cogwheel icon on the top-right corner and click on the Restart Android Plugin option. When BlueStacks restarts, you will notice that Fake GPS is not listed among the installed apps. This is because it is a hidden system app. You will have to launch the app from Lucky Patcher each time. We will discuss this later in the article.
Step 5: Install Pokémon Go
Now, it is time for you to install Pokémon Go on BlueStacks. Try searching for it on the Play Store, if you do not get it there, you can simply download and install the APK file as in the case of KingRoot and Lucky Patcher. However, do not launch the game immediately after installation, as it won't work. There are still a few more things that need to be taken care of before you can play Pokémon Go on PC.
Step 6: Change Location Settings
In order to properly spoof your location, there are a few settings that need to be changed. Firstly you need to set High Accuracy mode for location on BlueStacks. To do so, click on the cogwheel icon on the top-right corner and then select the Settings option. Now go to Location and here set the Mode to High Accuracy.
The next thing that you need to do is disable location services for Windows. This is to make sure that conflict of location does not take place. If you are using Windows 10 then you can directly press Windows + I to open Settings. Here, go to Privacy and select the Location option. After that simply turn off the location services for your PC. You can also simply search for Location in the Start menu and disable the setting from there.
Step 7: Time to Use Fake GPS
Once everything has been set, it is time to get familiar with Fake GPS. As mentioned earlier, you won't find the app among other installed apps. This is because it is a system app and Bluestacks does not display system apps. You need to use Lucky Patcher to open the app each time.
Launch the Lucky Patcher app and head straight to the Search bar at the bottom. Here you will find Filters, select that and click on the check box next to System apps and hit Apply. Fake GPS will now be displayed on the list. Click on it and select the Launch app option. This will open Fake GPS. Since it is the first time that you are launching the app, you will be greeted with a little How to operate instructions. This will be followed by a brief tutorial. Carefully go through it to understand how the app works.
The next thing that you need to do is enable Expert mode. Click on the three-dot menu on the top-right corner and select Settings. Here, you will find the Expert mode, make sure to click on the check box next to it to enable it. When you get a warning message, simply tap on the Ok button.
Using the Fake GPS app is pretty simple. Once you are on the home page, you will see a map with your location indicated as a blue dot. This is your actual location. In order to change your location, all that you need to do is tap on any part of the map and you will see a crosshair appear on top of it. Now press the Play button and your GPS location will be changed. You can check by opening any other app like Google Maps. When you would like to stop GPS spoofing, simply tap on the Stop button.
We will be using this trick to move from one place to another while playing Pokémon Go. Remember to not make any big or sudden movements, or else Niantic will become suspicious and ban your account. Always cover small distances and give enough cooling period before changing the location again.
Step 8: Start Playing Pokémon Go
Now, all that is left for you to do is play Pokémon Go on PC. Launch the game and set it up by logging in to your account. We would recommend you to try it first with a new account before using your actual main account.
Once the game starts running, you will have to switch to the Fake GPS app and change your location in order to move. You have to do this every time you wish to go to some new location. One way to make the process easier is to save a few locations on Fake GPS as favorites (e.g. Pokéstops and gyms). This way you can quickly move back and forth to different locations. You might face problems in setting a fake location at times but do not worry simply restart BlueStacks and it will be fine.
Since Pokémon Go is an AR-based game, there is the option to view Pokémons in the real environment by using your phone's camera. However, this won't be possible while playing Pokémon Go on PC. So, when you encounter a Pokémon for the first time, Pokémon Go will notify you that the camera is not working. It will ask you if you would like to disable AR mode. Do that and you will be able to interact with the Pokémons in a virtual environment.
Alternative Methods to Play Pokémon Go on PC
Although using BlueStacks is pretty much the standard and most commonly used method, it isn't the easiest one. Additionally, you might have to pay for some apps like Fake GPS for it to work properly. Thankfully, there are a couple of alternate ways to play Pokémon Go on PC. Let's take a look at them.
1. Using the Nox App Player
Nox App Player is another Android emulator that allows you to play Pokémon Go on PC. In fact, you will find Pokémon Go preinstalled on Nox Player. You won't even need any other app like Fake GPS to spoof your location. Nox Player allows you to move in the game by using the WASD keys on your keyboard. You can interact with different objects and Pokémons by clicking on them with your mouse. In other words, Nox Player is designed specifically for people who would like to play Pokémon Go on PC without leaving their home. The best part is that it is absolutely free.
2. Using a Screen Mirror App
Another workable alternative is to use a Screen mirroring app like AceThinker Mirror. As the name suggests it will allow you to view the mobile's screen on your computer and you can use it to play Pokémon Go on your PC. However, you will also need a GPS spoofing app to make it work.
Once you install AceThinker Mirror, go ahead and connect your device to the computer. You can either connect the two devices via a USB cable or wirelessly (provided that they are connected to the same Wi-Fi network). As soon as mirroring is complete, you can start playing Pokémon Go. In order to move around, you will have to use a location-spoofing app. Any changes that you make on your device will be reflected in the game as well.
Recommended:
We hope that you find this information helpful and you were able to play Pokémon Go on your PC. Niantic's Pokémon Go is a big hit and was loved by one and all. However, people find it more convenient to play the game from the comfort of their couch and on their PC, as a result, workaround started to spring into existence.
In this guide, we have covered pretty much everything that you need to know in order to play Pokémon Go on your PC. However, Niantic is aware of these hacks and tricks and constantly trying to stop them. Therefore, we would recommend you to try it while it lasts and keep looking for new and elegant ways to play Pokémon Go on PC.
How To Install And Play Pokemon Go On Your PC / Laptop
Catch Pokemon with Pokemon go on PC/Laptop while not ever effort your table, however it's a touch bit untidy.
If you're not living below a rock, you want to have detected regarding Nintendo and Niantic's gambling sensation, Pokémon GO, that is predicated on increased reality. Pokémon GO needs gamers to run around their neighborhood with the smartphones to capture Pokémon near . For now, Nintendo has not free this game for Windows devices. However, you'll play this game on your Windows 10 laptop using android emulator like Bluestacks.
Since you can't carry your Windows laptop, you'll use fake GPS to fool the Pokemon prolong Windows PC/laptop that you just are literally traveling. even if you've got android smartphone or iOS device, if you wish to gather all the Pokémons while not effort your table, then the subsequent is also your answer.
Step by step guide to put in Pokemon prolong your laptop or portable computer
Files to download
1. Download and Install BlueStacks App on your pc. The installation is easy and you merely have to be compelled to follow the on-screen directions to finish the setup. Once the program is put in, don't launch it nevertheless. we are going to ought to transfer many additional files before we have a tendency to start.
2. Download KingRoot APK and LuckyPatcher APK. These apps are wont to gain Root access on BlueStacks player then install our app as a system app.
3. Download Mock Locations (fake GPS path) and Developer choices Tool APK.
4. Finally, download the newest version of Pokémon GO.
You can save of these files anyplace, however, Mock Locations ought to be saved within the Documents folder on your laptop.
Как играть в Pokemon Go на ПК
Приложение Pokemon Go для портативных устройств в мгновение ока завоевало огромную популярность среди аудитории. Многих оно и расстроило – ведь для правильной работы приложения нужна ОС Android не ниже версии 4.4, или же iOS 5, и это не говоря об еще ряде системных требований. Покупать подходящий телефон ради одной игры – дело расточительное, поэтому пользователи озадачились вопросом – а как играть Pokemon Go на ПК? Как оказалось, игра без проблем работает через эмулятор Android-устройства.
Ньюансы перед установкой
Перед тем, как дать полное руководство о том, как установить Pokemon Go на ПК, нужно сделать несколько ремарок:
Во-первых, игра не рассчитана на ПК-платформу, поэтому в процессе игры возможны глюки, баги и вылеты.
Во-вторых, этот способ игры не поддерживается официально, и поэтому является нелегальным, поэтому пользоваться им нужно осторожно, и ни в коем случае не связывать его со своим основным аккаунтом. Игра в это приложение на компе чревато вечным баном профиля.
Ну и самое важное – при игре в Pokemon Go через Bluestacks теряется вся прелесть приложения. Его суть – это постоянное взаимодействие с игроками, реальные путешествия по окрестностям и ловля покемонов в реальном мире. Если играть с компьютера – то потеряется львиная доля удовольствия и эмоций.
Что нужно для установки
Что нужно для установки Pokemon Go на компьютер? Для этого понадобятся следующие вещи вещи:
Эмулятор Android-устройства. Это специальная программа, которая создает на компьютере виртуальную машину, которая имитирует работу планшета или мобильного телефона на базе Android.
Сам файл приложения Pokemon Go. Скачать его можно с интернета или сервиса Google Play.
Программа Lucky Patcher. Она также скачивается из интернета и имеет вид APK-файла.
KIngroot. Это еще одна программа для Android, которая дает доступ к внутреннему устройству операционной системы.
Fake GPS. Программа, необходимая для того, чтобы задать местоположение.
Как установить Pokemon Go на ПК
Сначала выключите функцию определения геолокации внутри самой Windows.
После этого скачайте и установите Bluestacks. Это займет какое-то время, после чего на экране появится рабочий слов Android-устройства.
Дважды нажмите на файл приложения Pokemon Go на рабочем столе Windows. Начнется установка и вскоре иконка покебола появится в эмуляторе. Выключайте эмулятор.
Далее нужно отредактировать реестр. Делается это так: Пуск – Выполнить – regedit. Откроется окно, в котором переходите по адресу HKEY_LOCAL_MACHINESOFTWAREBlueStacksGuestsAndroidConfig и внутри переменной Camera ставьте «0».
Перезапускайте эмулятор. Через него нужно поставить приложение Kingroot, дважды щелкая по его APK-файлу на экране Windows.
После этого запускайте KingRoot, жмите «Попробовать» и, если выскочит ошибка, выбирайте пункт «Исправить». Далее подождите, пока завершится процесс получения полных прав.
Перезагрузите эмулятор.
Таким же способом, как два приложения до этого, устанавливайте Lucky Patcher. В высветившимся окне выберите «Разрешить».
Внизу появится пункт «Пересобрать». Кликайте на нее, после чего вернитесь в Windows и скопируйте установочный файл от Fake GPS в папку «Мои документы» Windows.
Вернитесь в окно эмулятора. В появившемся меню выберите пункты sdcard – Windows – Documents, где единственным пунктом будет Fake GPS. Выберите «Установить в роли системного приложения», после установки не перезагружайте систему.
Вручную перезагрузите сам Bluestacks.
Заново запускайте Lucky Patcher. В самой программе найдите расширенный поиск и оттуда включите Fake GPS.
Внутри Fake GPS выберите режим Expert и укажите место, где вы хотите появиться.
В параметрах самого Android внутри эмулятора найдите вкладку «Местоположение» и поставьте галочку на «Высокая точность».
В тех же настройках отключите доступ к сведениям о геолокации со стороны Google.
Запускайте игру.
Видео
Вывод
Вот и все руководство, как установить Pokemon Go на ПК. Если игра выдает табличку о невозможности определения местоположения, то попробуйте заново его указать, а также внутри системы отключиться от своего аккаунта Google. Может возникнуть проблема с тем, что игра вылетает. Чтобы ее исправить, нужно полностью удалить эмулятор и все приложения, и полностью проследовать по всем шагам руководства «Как поиграть в Pokemon Go на компьютере» заново. Кроме того, перепроверьте, чтобы внутри рееста на позиции Camera значение стояло «0».
Вот и все, что необходимо знать о том, как играть с компьютера в Pokemon Go. Помните, что основная причина банов в игре – это использование программы Fake GPS. Поэтому во время игры старайтесь не переходить на очень дальние расстояния – а еще лучше начните играть с телефона. Так вы получите гораздо больше удовольствия и эмоций от игры!