DC offset
DC offset is an offsetting of a signal from zero. On the Audacity waveform it would mean that the waveform in default view appears not to be centered on the 0.0 horizontal line, as in the upper track in this image: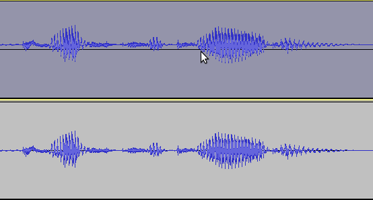 The cause is almost always a fixed voltage offset somewhere in the audio chain before the analog signal is converted to digital values. For example, the voltage may be directly caused by a faulty audio interface, or may come from some other device that is attached to the sound card. Any offset is normally so small as to not be noticeable, but with defective or poor quality hardware it may become large enough to be a problem.
| | |
| --- | --- |
| | You should check for and remove offset in any audio you are working with before editing it, even if the audio is not your own recording but an audio file you have obtained elsewhere. |
A sound that has DC offset will not be at its loudest possible volume when amplified or normalized. This is because the offset reduces the headroom between the peak level of the audio and the maximum possible level without clipping. This problem can possibly extend to the mix as a whole, since a sound with DC offset and a sound without DC offset will have DC offset when mixed.
DC offset can cause inaudible low level distortion. The distortion may become audible when effects that change the frequency content are applied, or when exporting the audio to a size-compressed format like MP3.
DC offset can cause audible clicks where audio sections are cut and pasted together, and can cause a click on playback at the start and end of the track, even without editing.
DC offset will become worse if the recording is amplified.
Removing DC offset
Audacity's Normalize Effect
Audacity's DC removal method performs a calculation to make the average positive and negative sample values equal. To perform removal, choose Effect > Normalize. , with the option checked «Remove any DC offset (center on 0 vertically)«. Uncheck the «Normalize maximum amplitude. » box unless you want to run Normalize as well (see Amplify and Normalize for what Normalize does and when to use it).
Cancel DC offset in sound devices on Windows
Newer Windows PCs may have a DC offset cancellation feature when recording from the built-in sound inputs. To check for or enable this:
Right-click over the speaker icon in the System Tray at the bottom of your screen and select Sounds . Click on the Recording tab.
Right-click over empty, white, space, show disabled and disconnected devices, then right-click over each device and enable it.
Right-click or select each device, choose «Properties» then look in the «Enhancements» tab.
If there is no «Enhancements» tab, look in the sound device's own control panel in «Hardware and Sound».
For a more detailed walk-through of the above steps for Windows (or if that does not work for your version of Windows), see Windows: accessing the Windows Sound controls.
Limitations of offset removal
Audacity's DC offset removal method could potentially create a new offset and therefore a click in some rare cases. Two cases are noteworthy:
where only part of the audio is offset, for example if absolute silence with no offset has been inserted into an offset recording.
where the offset is not constant. Strictly speaking this is not DC offset, it is sub-sonic modulation or «slowly changing DC bias», but over a short time period it looks very much like DC offset.
In the case where some sections of the audio are clearly offset and some not, the solution in Audacity is to first carefully select each section of non-offset audio then use Edit > Clip Boundaries > Split New to split it a new track. Then remove the offset from the remaining audio, and paste the non-offset audio back. Use Select > Region > Ends to Zero Crossings before split and paste if the non-offset audio is not absolute silence.
High-Pass DC removal may well remove offset without adding new clicks if the offset is not constant.
Как «раскачать» трек без потери динамики
Передо мной простиралась гладкая флоридская дорога, которая соединяет два побережья… В такие моменты очень хочется включить на полную громкость автомобильный плейер. Я выбрал диск под названием «Real Life» группы Simple Minds.
Музыка зазвучала намного тише, по сравнению с тем, к чему я привык в последнее время. Я увеличил громкость. И тогда я почувствовал динамику, присущую почти всем музыкальным дискам 80-х годов прошлого столетия.
Динамика является очень важной составляющей влияния музыки на уровне эмоций. Но, в то же время, многие звукорежиссёры предпочитают ее «убивать», потому что не хотят чем-то отличаться от других (читай: проигрывать в громкости). Им кажется, что песня с классной динамикой в сравнении с другими будет восприниматься, как более слабая.
Таким образом, получается замкнутый круг, согласно которого с каждой новой песней громкость все увеличивается и увеличивается. В последнее время я все чаще спрашиваю себя, не связано ли сегодняшнее снижение спроса на музыкальную продукцию с чрезмерно громким и агрессивным звучанием современных музыкальных композиций?
Возникает вопрос, как в таком случае поступать звукорежиссёру? Целесообразно найти золотую середину, которая позволит соединить достаточное количество динамики и громкости.
Ниже изложены некоторые советы, которые помогут Вам достигнуть этого компромисса.
И даже если Ваши песни не будут звучать так громко, как остальные, их эмоциональное воздействие на людей будет намного сильнее. И я уверен, что Вашим поклонникам при желании не составит труда просто увеличить громкость на своих проигрывателях.
Работа c низкими частотами и DC offset.
Наши органы слуха не воспринимают звуки с частотой ниже 20 Гц. Их присутствие в миксе влечет за собой уменьшение доступной динамической высоты. Поэтому их удаление соответственно вызовет увеличение общего уровня на 1-2 dB.
Все это стоит проделать еще во время сведения. Выявив отдельные «проблемные дорожки», вы сможете не нагружать себя в дальнейшем обработкой всего микса.
На уровень динамической высоты влияет и смещение по постоянному току (DC Offset). Происходящее при этом смещение нулевых точек звуковой волны в одну или другую сторону уменьшает высоту динамики.
Большинство аудиоредакторов имеют функцию «Remove DC Offset», использование которой позволяет вернуть эти точки на место. Таким образом, увеличивается громкость, а высота остается на том же уровне.
Контроль над басом.
Довольно слабое восприятие слухом низких частот вызывает желание «нарулить низов». В первую очередь это касается людей, еще недостаточно опытных в сведении. А ведь при ослаблении НЧ освободится больше места для остальных частот.
С целью создания иллюзии мощного баса можно использовать методы, приведенные ниже.
1. Во-первых, применяя многополосный компрессор исключительно для работы над НЧ, можно добиться баса, который будет казаться довольно громким, занимая при этом меньше места в миксе.
2. Во-вторых, в таких случаях рекомендуется использование плагина Waves MaxxBass или плагина Aphex Big Bottom. С помощью MaxxBass можно отделить оригинальный бас и создать на его основе гармоники. Наш мозг устроен таким образом, что при восприятии высших гармоник он сам додумывает основные басовые частоты.
Aphex Big Bottom действует несколько иным образом, но его психоакустическая обработка отнюдь не является менее эффективной.
Уменьшение пиков.
Еще одной проблемой является противостояние уровней со средними и пиковыми значениями. В качестве примера можно рассмотреть барабан – колоссальный взрыв энергии сменяется стремительным спадом амплитуды. В этом случае во избежание перегрузки настраивается низкий уровень записи, что является причиной получения довольно низкого значения RMS в итоге.
Если посмотреть на это с другой стороны, то длинный органный аккорд имеет высокий RMS. При воспроизведении сразу нескольких треков можно заметить, что скачки индикатора уровней в некоторых местах более значительны, чем в остальных частях композиции.
Подобное поведение индикаторов может объясняться массой причин. Такими объяснениями могут быть одновременная игра нескольких инструментов с громким пиком или использование резонансного фильтра на синтезаторе, при котором попадается нота, имеющая частоту, приближающуюся к его резонансной частоте. Подстраивание под эти пики приведет к уменьшению среднего уровня песни.
В процессе мастеринга подобное снижение среднего уровня может быть компенсировано за счет использования компрессии или лимитирования. Таким образом, пики ограничиваются, а более тихие части поднимаются.
Для получения более естественного звучания проводить эту обработку целесообразно на стадии сведения. Тогда в процессе мастеринга такая усиленная динамическая обработка уже не понадобится.
Самое простое, что Вы можете сделать для этого – понаблюдать за индикаторами мастер-шины во время прослушивания фонограммы. Рано или поздно Вы найдете место с самым большим скачком уровня.
Ограничьте поиски участком вокруг этого пика и поочередно приглушайте отдельные треки. Таким образом, Вы найдете трек с самым большим всплеском энергии. Если в какой-то части максимальный уровень имеет значение 0dB, и при приглушении одного трека пик находится на -1, второго – на -2, а третьего – на -7, то можно с уверенностью утверждать, какой трек является виновником всего этого.
Теперь рассмотрим рисунки, приведенные ниже.
В найденном треке следует увеличить масштаб отображения звуковой волны и с помощью автоматизации или деструктивного редактирования уменьшить пик на несколько децибел.
Чтобы убедиться в качестве звучания, воспроизведите всю секцию. Не забудьте проверить показания индикаторов. Пик 0dB будет заменен, например, пиком в -3dB. При отсутствии других пиков, превышающих эту отметку можно повысить общий уровень на 3dB и, что немаловажно, не превысить нулевое значение. Если другие пики все же имеются в наличии, то с ними можно поступить таким же образом.
Рисунок «А» показывает оригинальный сигнал, рисунок «В» — наиболее высокий пик, который подвергнется уменьшению на 3dB. На рисунке «С» Вы можете видеть результат проделанной обработки, согласно которому теперь пик не является таким заметным в сравнении с другими. Рисунок «D» показывает уже нормализированный к 0dB сигнал. Обратите внимание, что теперь сигнал имеет более высокий средний уровень, если сравнивать с рисунком «А», то есть другие пики превышают оригинальные без традиционной динамической обработки.
Описанная выше методика позволит «раскачать» микс без использования значительной компрессии или лимитирования.
Завершающий шаг
Звуковые волны наиболее восприимчивы нашим слухом в диапазоне 3–4 кГц. Поэтому для повышения этих частот рекомендуется использовать эквалайзер. В первую очередь это касается тихих партий. Таким образом, Вы создадите иллюзию громкости и добьетесь большего эффекта присутствия.
Но не перестарайтесь с усилением этого диапазона, иначе вы рискуете получить через чур резкое, агрессивное звучание. Иногда усиление даже всего лишь на 1-2 dB может стать причиной подобной ситуации.
Чтобы ещё больше «раскачать» микс, можно применить максимайзер. Но учтите, что в случае выполнения вышеизложенных рекомендаций, следует использовать уже не такую глубокую динамическую обработку.
Если раньше выходной уровень вашего максимайзера достигал 4 – 6dB, то теперь Вы можете ограничиться 1-2dB. У Вас появится возможность работать только с самыми высокими пиками, не затрагивая остальные.
What Is DC Offset?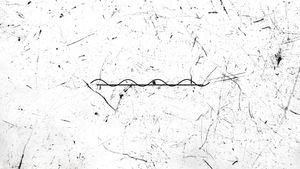 Editor's Choice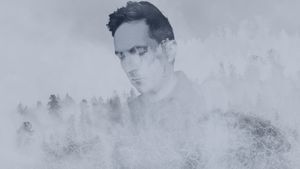 The Direct-to-Fan Project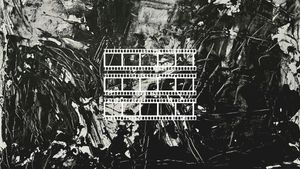 The Ultimate Guide to Trailer Music
Get all the latest posts delivered straight to your inbox.
When it comes to sound editing and audio management, a lot of words and phrases get thrown around without much explanation.
This can be super confusing when you're just starting out and want to learn more about sound editing – but that's where we come in.
You may have heard about something called DC offset but what is it? And how does it affect your music and sound?
Here we are going to be looking at DC offset including what it is and how it affects you and your work.
So, if you want to understand more about DC offset, check out our information below!
What Is DC Offset?
DC offset is another name given to amplitude displacement or when your sound signal is set off from zero.
When you play music or any kind of sound, you imagine it visually in its waveform. This means you see it as a sound wave that goes up and down. This is your AC – your alternating current which dictates the frequency of your sound output.
However, running through the middle of your AC wave is a straight, flat line. This is known as the direct current – the DC.
It is sometimes called the zero because it does not have anything that will make it alive and move, thus why the DC always remains flat and still.
Usually, the AC wave lines up its center with the DC line so everything is perfectly balanced.
However, when the AC wave is not lined up with the DC line and is instead either shifted above (positively) or below (negatively) the DC line, then you create a DC offset.
This is when most of the AC wave is either above the DC line or below the DC line. It's not equally set with half below and half above because the AC is not lined up with the DC.
It is 'offset' from the DC, or you could phrase it as that the amplitude is displaced.
The main cause of DC offset usually has to do with the voltage offset in the audio chain. Faulty audio interface or soundcards can cause a lot of DC offset, as well as poor quality equipment or any defects in your hardware.
However, even if your equipment is all very high quality and there are no faults in the chain, then you can still have a low level of DC offset.
It's difficult to avoid but luckily, easy to fix.
Is DC Offset Bad?
DC offset can negatively affect your audio because it causes clipping, distortion and a loss of volume, especially when working with amplifiers.
This is because your audio is working in a range either above or below the DC line and when it crosses over the DC line, the wave will clip because it is not balanced.
This clipping is also very noticeable when you try and paste two audios together, and you will often hear a click on the start or end of a track even if you haven't started editing – that is due to DC offset.
Clipping is not the only side effect of DC offset as it also severely impacts the volume level of your audio. It reduces the room between the peak level of your audio and the maximum possible volume, and this will make your audio sound quieter overall.
DC offset is also responsible for distortion in your audio too, and this distortion becomes more noticeable as you edit with the audio and start extorting it into different formats.
Amplifying or normalizing your audio will make the DC offset a lot more noticeable and this can ruin the overall quality of your audio.
Because of this, DC offset is usually the first thing tackled in the editing process before anything else as it always occurs during recording.
How To Fix DC Offset With Your Audio
So, DC offset is bad and you need to get rid of it – but how?
Then get rid of any DC offset in your audio, then you need to correct the AC wave and bring it back in line with the DC line.
This will balance out your audio and return it to the range it is meant to be in, preventing it from clipping and distorting any further.
So how do you do this?
Luckily, a lot of computers with audio editing software already come with a quick and easy DC offset cancellation feature – you just have to find it and enable it.
To start, right click the speaker icon over on the System Tray on your editing software and click select. Then, you need to enable each device in your Disabled and Disconnected Devices.
Over each new enabled device, you need to right click again and choose Properties, then Enhancements. Some software will not have an Enhancements option but instead Hardware and Sound.
Here, you should be able to find the 'Fix DC Offset' option. Click it and your computer will line up your AC wave with the DC line straight away for you and automatically fix any DC offset.
This is a super handy feature that all sound editors and musicians use because it helps get rid of a common issue with minimal fuss or effort.
However, it's important that you remember to do this fix right before you start editing any other features of your audio – this is because DC offset can seriously impact your audio and if you make any changes beforehand, it will sound completely different once you have gotten rid of the DC offset.
Conclusion
So, DC offset is a huge issue that affects all forms of audio recording and is one of the first fixes every sound editor makes before anything else.
This is because DC offset is usually behind a lot of quality issues like clipping, distortion and volume restriction. Fixing this offset first allows you to set your audio to its original quality so you can make any other edits that you desire.
Because of this, a lot of audio editing software automatically comes with a 'Fix DC Offset' option for ease of use.
So, now you know what DC offset is and how to fix it, you can now improve the quality of your audio for good!
Asymmetric & Deformed Audio Waveforms: Should You Worry?
You've probably seen an audio clip where the waveform appears skewed and wondered what caused it. Let's find out what DC offset is, why it happens, how to solve it, and if you need to be concerned about it.
The skewed or deformed audio waveform is caused by what's known as a DC offset. While the term seems hardware-related, and indeed, it tends to plague hardware more often, you can also have this problem in digital audio. In digital audio, it mainly occurs during summing (or numeric calculations of audio bits), so you'll likely notice them after freezing a track. So, re-rendering the track might solve the problem if it's a temporary tick in the synthesizer or effect processor.
What Is DC Offset?
In an audio clip, the horizontal line in the middle is zero, and the audio signal is recorded in positive (up) and negative (down) values. DC Offset is an imbalance between the positive and the negative signals in an audio waveform, where the zero becomes a different value, either positive or negative.
Suppose you have a regular audio clip, and the waveforms are alternating between +5v and –5v. Now, if the waveform started alternating between +6v and –4v, you have a DC offset. And since DC offset essentially makes the waveform lean more towards one kind of signal over the other, we also call it DC bias.
Why Is DC Offset Bad?
The worst problem with DC offset is that your audio will clip before it would as a normal audio waveform. When a waveform is biased towards either the positive or the negative value, the higher value will reach the clipping level quicker. You might also face issues in editing and metering.
The following pictures demonstrate the clipping problem:
A typical waveform – note the height of the sine wave.
Notice how the height (peak level) is the same, but it's clipping.
The second issue you will face with DC offset is while editing. Since the "zero" of an audio clip with DC offset has a value, it will create an audible "pop" when you split/splice it. Similarly, you will have the same issue when looping an audio clip as it has no zero-crossing.
DC offset can also cause metering software/hardware to go haywire. For example, if your audio is biased towards either a positive or negative signal, your dB peak meter will read much higher than what you perceive. In fact, in rare cases, DC offset can cause damage to your speakers/amplifiers due to extreme peaks despite a low perceived audio level.
What Causes DC Offset?
There are several causes of DC offset, and you're more likely to face them in audio recorded with faulty devices and in renders from a complex signal chain. In the digital world, a delay unit, hand-drawn wavetables, certain filter combinations, and so on can cause DC Offset.
Let's explore the causes a little further:
Direct Current
This topic is probably the most common cause of DC offset. When one of the hardware in your signal chain adds DC voltage (one that doesn't alternate) to an AC circuit (one that alternates), the output AC voltage will have a bias towards one kind of value. Soundcards, audio interfaces, microphones, phantom power supply, and mixers are often the culprits here.
Unison
While most synthesizers are designed to avoid DC offset as much as possible, once in a while, adding detuned unison voices that are in phase with the original signal will cause a DC offset. You can avoid this issue by turning the phase parameter on the oscillator(s) slightly.
Delays
If you are using multiple delay units linked together, you could be causing feedback loops between them, even if they aren't audible. Note that you will have to do some rather crazy routings to make it happen, but it's still a possibility, especially in hardware units. Such setups can cause DC offsets.
Wavetables
Wavetable synths have grown in popularity thanks to the freedom they offer. However, hand-drawn wavetables or poorly programmed ones might contribute to adding DC offset in your audio output.
Filters
As with unison, most synths avoid DC offset caused by filters. However, if you stack up multiple complex filters, you might end up creating a DC offset. It happens even more often when you have wavetables that are already offset because resonance from filters adds more to the issue.
Post-Repair Issues
This issue is relatively rare. When a hardware unit is repaired, the repairperson might replace a faulty transistor with a close substitute instead of a replica. If the components happen to be in a recording circuit, you will get DC offset.
Grounding
Often, the grounding circuits of different hardware units are at different potentials. When two such hardware equipment is connected, they cause ground loops, which ultimately cause DC offsets. Similarly, a computer's SMPS (PSU) can also create spikes of AC voltage that enter your audio interface and other hardware to cause such ground loops.
How To Avoid DC Offset?
You can avoid DC offset by ensuring proper grounding and conditioning your hardware equipment before recording. During music production or mixing, stay vigilant when using a highly complex chain of filters or delay units. Similarly, double-check wavetables to see if they are not offset.
Let's get into these tips in more detail.
Ensure Grounding
Having a proper grounding/earthing system and ensuring your equipment is connected is one of the best ways to avoid DC offset. If the hardware doesn't have a grounding compatible plug, connect the chassis to the grounding terminal in your socket. Make sure you read up on which terminal is the live, neutral, and ground in your country. For the USA and many European countries, the ground is a metal ring around the socket.
Phantom Power
Having multiple hardware gears increase the chance of a DC offset. So, avoid using equipment like phantom power supplies. Instead, opt for an audio interface or a mixer with built-in phantom power. Furthermore, if you own a microphone that requires a battery, make sure the battery is full and seated correctly. And perhaps even consider switching to a regular mic as these are less prone to DC offset.
Avoid Over-Complication
Some people tend to use overly complicated effect chains despite intending a simple process. For example, avoid using multiple delays routed into each other instead of a multi-tap delay. This tip applies to any time-based plugins like reverb, chorus, flanger, etc.
Keep An Eye Open
When using complex chains of effects, hand-drawn wavetables, or amateur wavetable packs (often free ones), make sure that you don't contribute to DC offset. Ensure there is no feedback loop from effect processors and that the wavetable is evenly divided in both positive and negative signals.
How Do I Remove DC Offset?
In almost all cases, a frequency (hum or spike) near 0 Hz causes DC offset. So, using a high-pass filter anywhere from 1 Hz to 20 Hz should get rid of DC offset. I suggest setting the high-pass filter at 10 Hz, which should be low enough not to cause sonic changes and high enough to filter out DC offset.
While the concept mentioned above remains useful, most audio editors nowadays provide a dedicated tool for removing DC offset. They intelligently detect the amount of DC offset and apply an opposite offset to make the waveform balanced. In this section, I will demonstrate the tool in various editors and DAWs.
For the sake of navigation, here is the order of the editors I will be using. Clicking on the link will take you to the download/purchase page.
Audacity(free)
ocenaudio (free)

Cakewalk by BandLab(free) (60-days free trial) (paid)
How Do I Remove DC Offset In Audacity?
Audacity features a built-in DC offset removal tool in its normalizer. So, all you have to do is load the audio with DC offset, select an area (or the entire audio), add the Normalizer effect, and select the 'Remove DC offset' option. If you don't want normalization, uncheck the option.
Step 1: Load and select the audio with DC Offset.
Select the audio with DC offset.
Step 2: Open the Effect menu, and select Normalize.
Find Normalize under the Effect menu.
Step 3: Make sure the option 'Remove DC offset' is checked, and uncheck the rest if you only want DC offset removal. Then, click OK.
Uncheck the unwanted options.
How Do I Remove DC Offset In ocenaudio?
Ocenaudio is probably the easiest editor to use for removing DC offset. To remove DC offset, load your audio file, select the problematic area (or none if you want it to affect the entire audio), go to the Effects menu, and click on Remove DC. That's it; your audio should be fine now!
Step 1: Load your audio.
Load your audio file in ocenaudio.
Step 2: Open the Effects menu and click on 'Remove DC.'
Find Remove DC under Effects.
How To Remove DC Offset In Cakewalk by BandLab?
Cakewalk by BandLab has a dedicated tool for removing DC Offset under its Process menu. Select your audio clip, open the Process menu, and find 'Remove DC Offset' under Apply Effect. You can use this tool on multiple audio clips at once by using Ctrl + Click to multi-select.
Step 1: Import your audio clip into a track in Cakewalk, then select the clip(s).
Select the clip with DC offset.
Step 2: Under the Process menu, navigate through Apply Effect and click on Remove DC Offset.
Use Remove DC Offset.
How To Remove DC Offset In REAPER?
As with anything in REAPER, it has multiple ways to remove DC offset. However, one of the most straightforward ways is to use the JSFX called DC Filter. Add the JSFX to a take/track and render it. The start and end of the clip can create pops in the render, though, so make sure you have a bit of space.
Step 1: Import your audio clip into a track in REAPER.
Load the audio clip in REAPER.
Step 2: Right-click the clip, go through Take, and click on 'Show FX chain for active take.'
Step 3: Add the JSFX called DC Filter (note the category I have selected).
Step 4: Right-click the clip and click on 'Render item as new take.' This option will create a new take in the same item so that you can compare the two. If you want to delete the old take, select it, right-click it, go through Take, and click on 'Delete active take.'
How To Remove DC Offset In FL Studio?
FL Studio makes it easy to remove DC offset from an audio clip. All you have to do is load the audio file into an Audio Clip channel in the Channel Rack (F6), then enable 'Remove DC Offset' under Precomputed Effects in the channel's UI. Unfortunately, there's no way to activate it in multiple clips at once.
Step 1: Load the audio file in an Audio Clip channel in the Channel Rack.
Load the audio file in an Audio Clip channel.
Step 2: Enable Remove DC Offset. And if you want to render the file, right-click the waveform and click on 'Save as.'
Enable Remove DC Offset.
Conclusion
And we've come to the end of our detailed guide about DC offset. As you can see, while the issue definitely requires remedying, it's not something you have to be worried about much . Preventing it is pretty easy, and if you stick with recommended hardware, you're unlikely to get DC offset from recordings .
However, if you do end up with DC offsets, it's not a complex problem to solve at all. If I didn't list the DAW you are using in the guide above, try looking for the tool in similar options or refer to your DAW's manual. I hope the guide has helped give you an understanding of the DC offset.
K. M. Joshi is a multi-award-winning composer and sound designer, specializing in film, game, and TV audio. He enjoys making cinematic music, rock, blues, and electronica. Read more..